Soft2Print.com - cloud imaging including design tools
Soft2Print - a joined corporation - between Mediaclip Inc and Softec ApS - offers a cloud based imaging infrastructure bundled with leading design tools for creation of ANY products.
Soft2Print - launched in 2008 - service customers from literally all continents
Hosted in central Europe by a dedicated support team using CDN technology for distributing content to local regions.
The concept allow ANY webshop to sell personalized products.
Web shops enjoys advanced features as splitting of orders and automatic delivery to the production facility you choose.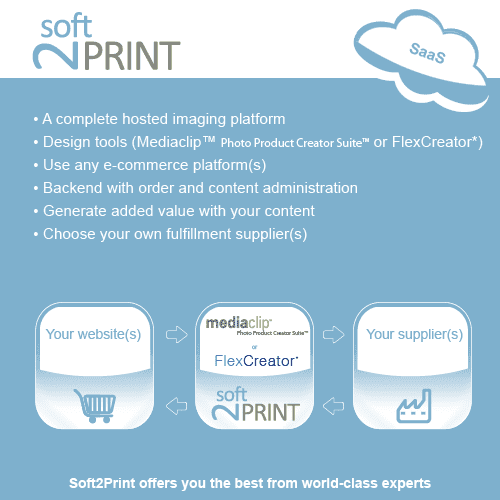 Design tools
Enjoy the award winning Mediaclip™ Photo Product Creator Suite™ or select FlexCreator
Soft2Print takes advantage of Softec Image Layer to offer consumers direct access to photos stored on social medias without prior downloading.
You can even offer QR upload mobile users to enjoy easy transfer.
Photos and projects are stored in the Soft2Print environement
Multi language is supported with possibility for dynamic language switch.

Online backend
A central part of Soft2Print is the backend which gives you access to order details and an advanced content administration.
Administration of cliparts, borders, backgrounds and creation of themes is made from the backend.
Intelligent scaling of themes across products make the setup and administration easy allowing you to create an publish themese for multiple products within minutes.

Advanced features
Orders are automatically delivered to the fullfillment companies you choose and rendered in high resolution according to the specification from your supplier.
Order can automatically be splitted in multi part depending on content. Integration with your web shop implemented through a comprehensive web service API.
Sample code and demo shops available for your integrators.
Optional services from world leading partners includes image enhancement, long time storage, uploading technology and SmartCrop technology

Soft2Print brochure
Contact us for a demo or to learn more.
We also invite you to visit the dedicated Soft2Print.com site

Soft2Print offer and advanced backend.