Soft2Print.com - Plugin for NopCommerce 4.1
Get our plugin for the latest version of NopCommerce 4.1.
NopCommerce is the leading asp.net Ecommerce solution based on the latest Microsoft .net core 2.1.
With Softec NopPluging you can focus on the commercial setup of your new Ecommerse solution.

NopCommerce offer a free Ecommerce platform with a huge quantity of plugins.
Multi language - multi currency are features you benefit from.
Read more about NopCommerce at www.nopcommerce.com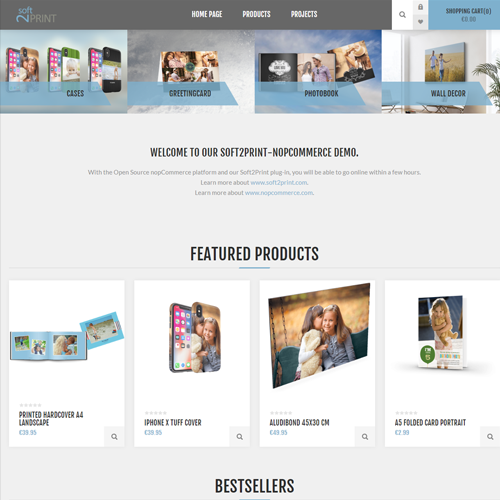 Any product
Launch any Soft2Print product for personalization.
Products can easily be setup directly in the NopCommerce backend.
Virtuel products is supported to present different content for the same physical products.
Present themes directly in NopCommerce with Soft2Print preview and model photos.

Theme template
We have a large number of high end, responsive templates for NopCommerce which we can offer as a part of a project.
Templates includes a number of dedicated pluigns to optimise the user expierence.

Contact us to learn more.

Need help?
We offer assist in setting up your initial Ecommerce solution as well as ongoing technical support.
We have supplied custom software solutions since 1988 and are pleased to offer exceptional knowhow and support.

Soft2Print brochure
Contact us for a demo or to learn more.
Visit the test environment for NopCommerce integrated with Soft2Print NopDemo for Soft2Print site

Product personalization in NopCommerce.