Softec distributor of Mediaclip™ Photo Product Creator Suite™
Softec have distributed the Mediaclip™ Photo Product Creator Suite™ since 2008 and helped leading European site to integrate and achieve significant market share.
Photo Product Creator Suite™ offer personalization of ANY product with a flexible consumer friendly UI.
Softec have a significant expierence in integration and have a range of Software components whic fits into the concept.
It can be offered on-premise or as a part of our cloud infrastructure Soft2Print.com.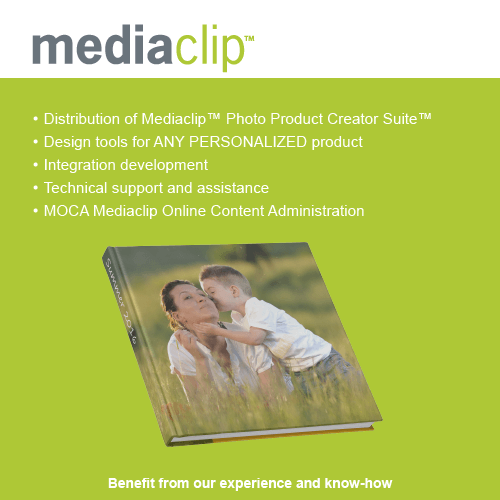 Design tool
The design tool have been marked leading and offers a range of unique features.
The design tool comes with a huge library of content and offer a flexibility in administrating content.
Uses all around the globe have enjoyed the desing tool using it for creation of personalized products.
An important feature is presentation of outstanding photo realistic beatyshoots.

Integration
Implementing the design tool requires integration of a range of systems such as photos, content and shopping carts.
A range of predefined plugins allows the integration to implement a system seamless integrated in your environment.
Softec have established a significant knowledge through helping European customers and implementing our cloud solution Soft2Print.com

Service
Based on our knowledge from implementing a range of systems throughout Europe Softec offer our help in both integration, consulting, product development and support with your systems.
We will be pleased to agree a setup that matches your expectations.
Please contact us to discuss your setup. We are used to handle high volume and optimise workflow for fully automized processes.

Brochure for Mediaclip™ Photo Product Creator Suite™
Contact us for a demo or to learn more.
We also invite you to visit the Mediaclip Inc site from Canada Mediaclip.ca site

Softec distributing Photo Product Creator Suite™