Looking for Awesome Personalization tools?
Try our FlexCreator html5 client side design tool with stunning features designed for high volume and flexibility to meet your setup.

Support for single page products as well as multi page products like personalized calendars.

Allow your customer to work with local photos without uploading ahead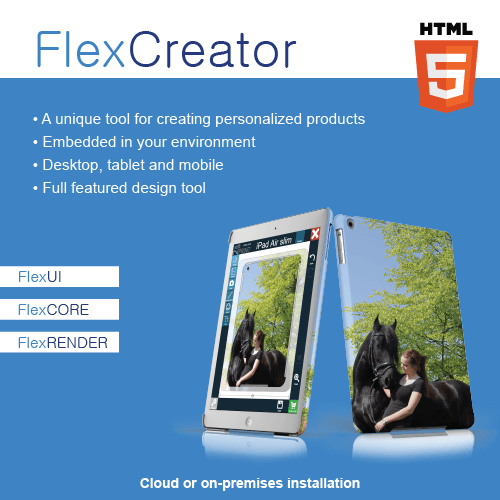 Open architecture
FlexCreator is designed to be used in your own environement and cart.
It offers an open architecture under your full control.
The plugin allows you to specify a structure of photos and content is
present in additiona to an advanced project mangement etc.
Use Softec Image Layer (optional) for a uniform method for access to photos no matter where they are physically stored.

Custom features
The FlexCreator environment offers a range of branding and custom features.
- Present your logo.
- Use your own CSS file for branding with your design.
- Control which buttons is available
- Custom functionality through configuration.
- Custom functionality through a dedicated FlexUI
- Custom developer core functionality.
Business models
FlexCreator is available as On-Premises installation or through our cloud environment soft2print.com
Business models to fit all levels available from flat-rate high volume scenarious to performance based licenses.
Bundles which includes DynamicMockup for generating photo realistic beautyshoots is available.
Let us discuss your requirements and we will match a proper business model.
FlexCreator brochure
Contact us for a demo or to learn more.

We speak "IMAGING" - Can we help you?