SmartCrop an SmartCompose
Content aware crop and composition technology
One of the largest challenges in the photo industry is the "ratio" problem causing cropping of print or white borders.
SmartCrop can help you with a fully automatically solution improving the cropping based on detection of up to 12 persons combined with other imaging analysis.
SmartCompose technology takes it even to another level by anaysing a template and suggest automatic zoom/pan within a frame.
You thereby have the possibility to present a complete product ready for 1 step purchasing or start editing.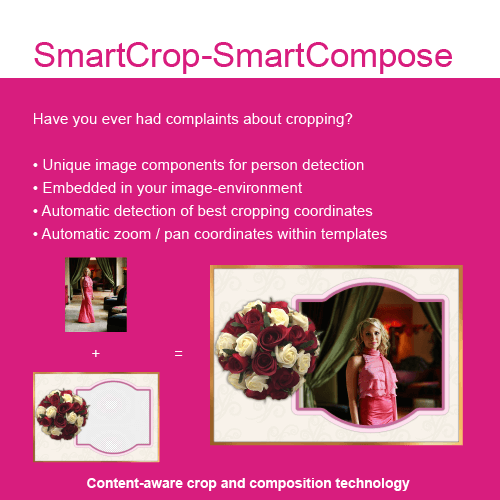 SmartCrop
SmartCrop™ automatically detects people within images and intelligently reframes the image around the people. Smart Crop solves an industry-wide print ratio problem causing important parts of the photo to be out of frame.
SmartCompose
SmartCompose™ identifies people in a photo and creates a "safe zone" around the person or group of people. Once it has determined that safe zone, it automatically fits that image into any layout, template, or frame while protecting the people from being covered or cropped away.
Business model
SmartCrop and SmartCompose is available as on-premises components for embedding in your environment at a flat rate license.
In addition SmartCrop is available in our cloud infrastructure Soft2Print.com as an optional service for a symbolic fee per month for unlimited volume.

Brochure for Softec ApS
Contact us for a demo or to learn more.

SmartCrop and SmartCompose - Content aware crop and composition technology.